There is one guiding question for our team as we design the Building a Second Brain course:
How can we make a course that is impossible to fail?
So many courses make a big promise of everything you will do and achieve…as long as you perfectly complete every lesson and comply with every requirement.
I remember taking these courses. The feeling of disappointment as I slowly dropped off time after time, always blaming myself and my lack of self-discipline for my failure. I don't think I ever finished a self-paced course.
It seemed to work for everyone else, but why not me? Why couldn't I be one of the glowing testimonials I saw on the sales page?
When I created BASB, I was determined to create an experience that left people feeling more empowered, not less. That gave them a sense of future possibilities, instead of past pitfalls.
I decided to deliver the course live via Zoom. Instead of assigning homework for students to somehow find time to complete on their own time, I instituted a "no homework" policy. When the group got too big for me to work directly with every student, I hired Alumni Mentors to coach students through their process.
This approach is probably not as efficient or scalable, but it is radically more effective at delivering the promises we've made.
We've just released the the full list of improvements we're making in v11, which I'll explain in more detail below.
Every single one of these changes is laser-focused on one target: making students win.
1. Restructured curriculum
We make small changes every version, but this time is different. We've identified every individual piece of the course experience, and are completely rearranging and redesigning the curriculum based on over 3 years of feedback from students.
After years of exploring and adding new concepts, the BASB Method is starting to mature into a well-defined process. We are removing unnecessary lessons, moving supplementary material to the Media Library and the discussion forum, and aligning everything behind what really matters: taking action.This means less time preparing and setting things up, and more time working directly with notes. It means the biggest insights come much sooner, get quickly demonstrated via hands-on exercises, and then followed by implementation with our support.
2. Revamped course content
We're not just rearranging material, we're recreating it. Most of the videos in the course date from version 5. It's now time to rerecord the main lessons to fit the new methodology, to apply the feedback we've received, and to simplify the message to just the essentials.
3. Mentor-led Student Groups
In cohort 10 we introduced Alumni Mentors – previous graduates of the course who we recruited, trained, and supported in helping students through challenges and obstacles. AMs led Student Groups, which we also introduced for the first time to give people a smaller, more intimate space to collaborate and get feedback.
That experiment was such a phenomenal success that it's completely reshaped my view of how this program will evolve in the future. I can only connect with so many students, and my definition of success is only one of many. Mentors provide not only a guiding hand, but alternatives to what it means to "build a Second Brain."
We are moving full speed ahead to make Mentors the central part of the program. We're recruiting 20 of the highest-caliber alumni we can, doubling the amount of training they receive, paying them for their time, and asking them to each lead a breakout session once per week for the 5 weeks of the course.
Which means that in addition to the 10 live sessions and 8 Premium coaching calls with me, Mentors will be leading 100 breakout sessions on every topic imaginable. There will be workshops on how to build a Second Brain in Notion, Roam, OneNote, and many other tools. Workshops will dive deep on every aspect of knowledge management, delivered by people from a wide variety of backgrounds.
BASB is becoming less like a course and more like a global conference: I deliver the keynote address, but everyone knows the real magic is in the breakout sessions where you can get into the details. Not to mention the afterparties and conversations in the hallways where you get to meet fascinating people.
Each of the Student Groups will meet each week, but you can opt in or out of any group at any time. It will be like Coachella or Burning Man – the point isn't to "consume" everything. It's to dive headfirst into one of the most mind-bending and thrilling experiences of your life, and be transformed as a result.
4. Bonus Office Hours
Last cohort I stayed on for 30 minutes after each live session to answer questions, and that ended up being one of the most popular parts. So this time we're making it official. This adds 5 hours of open Q&A time with me to the course. These calls are also recorded and posted to the curriculum for anyone who can't attend live.
5. Circle community-building
In the last edition we launched Circle, a next-generation online discussion forum. It has had a profound impact on the community-building aspect of the course. It is far more modern, user-friendly, interactive, and muti-faceted than any other platform out there, and we are making it the home of our student community.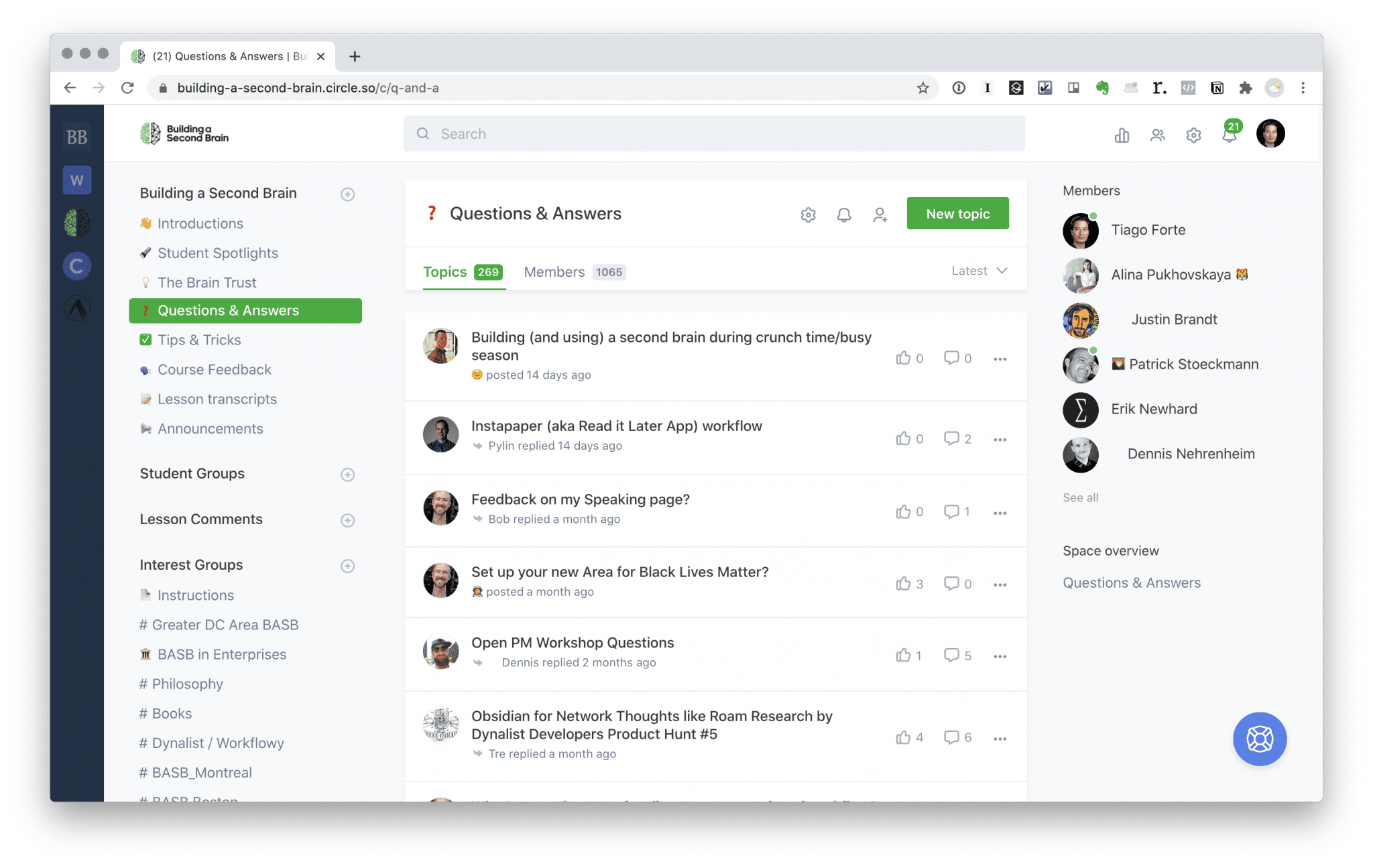 For this round, Circle has added two crucial features that will greatly accelerate community-building.We've realized that one of the biggest benefits of the program is the people you meet. We've seen many friendships, collaborations, and even businesses come out of these cohorts. One day I'm convinced we'll see a marriage.
The first is direct messaging – you can now privately message anyone in the course, past or future, without needing their email address. We encourage you to schedule extra calls, work on your projects together, and get to know each other beyond the 5 weeks.
The second is Interest Groups – students can now create new "channels" within the community for any topic or interest imaginable, without permission from an admin, and anyone can join them. Here is a small selection of the nearly 100 groups that have been created so far by students:
#Music Producers
#Vipassana and BASB
#中文 (Chinese students)
#Memes
#BASB Brasil
#Show your system
#Android
#UX and Product Design
#Paper People
#investment research
6. BASB Knowledge Base
Over time we've developed proven answers to many of the most common questions people have in building their Second Brain. Instead of answering them again and again, we're taking the knowledge management approach and documenting them all in one place.

7. Three new Media LibrariesThat place is the BASB Knowledge Base, and it is our "shared brain" for all the most common questions and challenges that our students face. We will share it on day 1, so we can all move as fast as possible toward the unexplored frontier.
We've expanded the "Media Library" part of the course, which every student gets access to. It provides a place for us to add valuable but optional content – demos of common capture tools, examples of how to summarize different kinds of content, real-world case studies on the strategies we teach – in a way that doesn't make the core curriculum too overwhelming.
Since the last cohort we've added 3 new libraries: the Capture Library, the Summarization Library, and the Workflow Strategies library. Each one contains short videos, each one demonstrating a technique or example for easy reference.
8. BASB Welcome Week
We've added a full week between enrollment closing (on Aug. 24) and the kickoff on Aug. 31. This is to give everyone a chance to get ready, understand how the course itself works, confirm the schedule, and prepare for success.
We've also added a new workshop to Welcome Week to help people pick the best note-taking app for their Second Brain. We've compiled everything we've learned from watching nearly 2,000 graduates go through that process, and have finally come up with a simple framework for making that pivotal decision.
9. Premium Calls
The Premium Edition coaching calls from the last cohort were a smashing success, providing a much smaller, more intimate space for me to work directly with students. So we're adding more of them. I will be hosting 8 hour-long coaching calls this time, and they will be scheduled on Thursday evenings and Friday mornings so students from any time zone can attend at least one of them each week.
Premium coaching calls are available only to new students joining cohort 11 for the first time, but the recordings will be posted to the Media Library for all past Premium Edition students to watch.
10. Capstone Day
Last time we introduced Student Spotlights – in every takeaway email I highlighted at least one student achievement, such as a new blog post, tweetstorm, website, podcast interview, forum post, etc. We strongly recommend that students not just passively consume the ideas, but actively put them to use and create something new out of the information they have in their notes.
It was such a success that we're adding a whole new event – Capstone Day. At the end of the program, students will have the chance to present what they've created to the whole group. We are constantly amazed at the creativity that comes out of student projects, and are proud to support them.
Those are the 10 biggest changes we're making. And of course, we'll continue to do everything that has worked well so far, including onboarding calls with our Course Manager Will Mannon, a two-week implementation period following the end of the live sessions, and a scholarship program that last time provided nearly 70 students with need-based access to the program. More info on that coming soon.
Tiago
---
Follow us for the latest updates and insights around productivity and Building a Second Brain on Twitter, Facebook, Instagram, LinkedIn, and YouTube. And if you're ready to start building your Second Brain, get the book and learn the proven method to organize your digital life and unlock your creative potential.