To celebrate the launch of the 11th edition of Building a Second Brain, we're co-hosting the first ever Second Brain Week, a series of free events with 8 top creators and experts.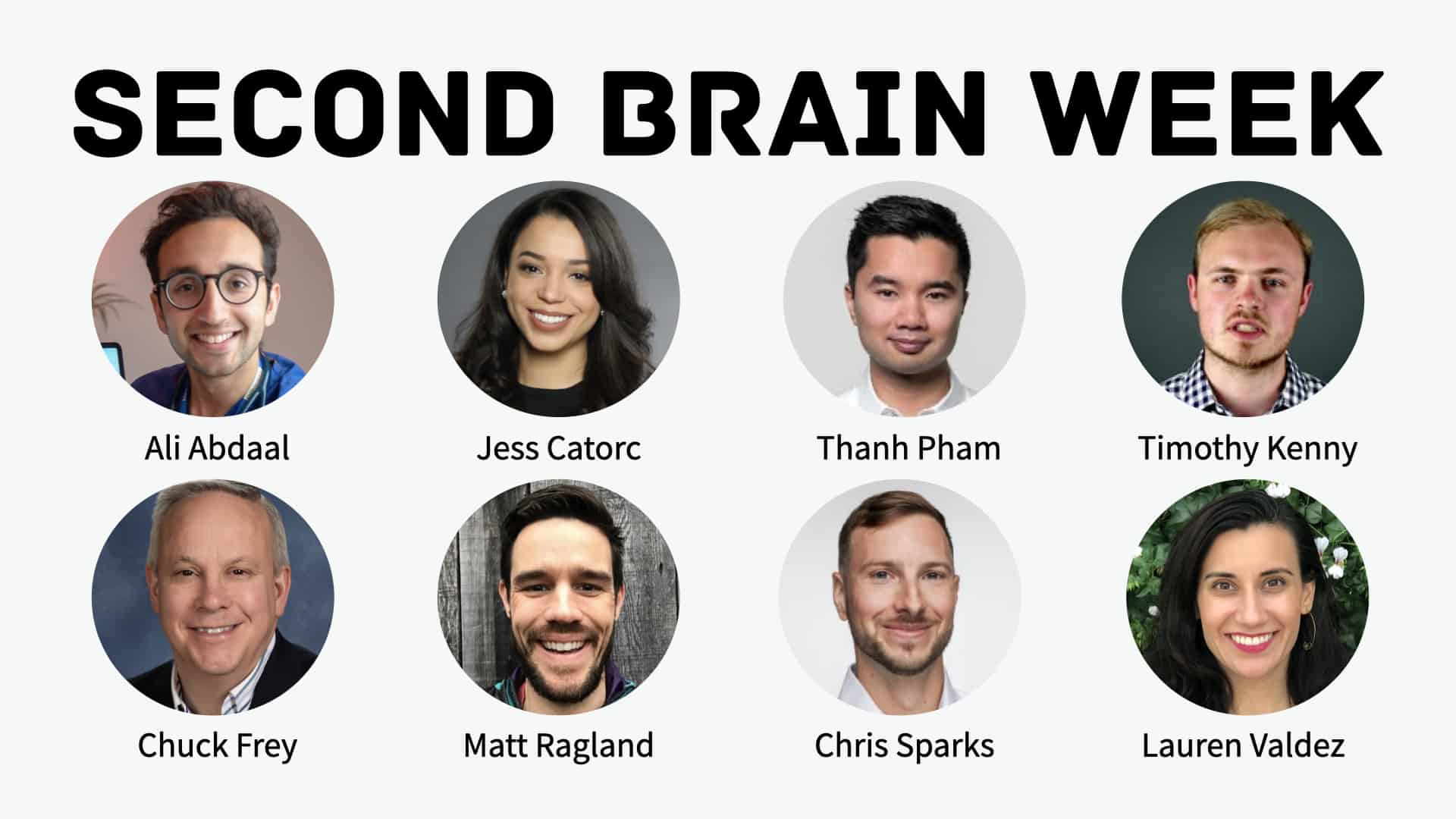 Come join us to learn about digital note-taking, organizing, productivity, knowledge management, and online education, and how creating a system of knowledge management for yourself can help you do all of them far more effectively.
Digital Note-Taking with Thanh Pham (8/10)
I kicked off Second Brain Week by speaking with Thanh Pham, the Founder and Managing Director of Asian Efficiency, one of the most respected productivity blogs on the web. We talk about what it means to take digital notes, and how it can help us in an era of information overload.
Teachable Discover workshop: How to Take Digital Notes (8/13)
This event hosted by 
Jess Catorc
 from the Teachable team is a 1-hour workshop and Q&A on how digital notes can help you overcome information overwhelm and harness the power of information abundance. Including how to:
Capture and save the best information you consume each week 
Organize that information in an easily retrievable note-taking system 
Use your notes as fuel for creative expression, driven by a project-first workflow
Use your Second Brain to free your first brain for creative work – your brain is meant to think and create, not store information
Online Workshop: How to Choose a Digital Notes App as Your Second Brain (8/17)
This is a completely new workshop to answer the #1 question we receive from students: which app should I use for my Second Brain? Bringing together insights and lessons from nearly 2,000 students over 3+ years, I present my official recommendations for which one to choose based on your goals, needs, and professional situation.
Secrets of a Six-Figure Course Launch, feat. Tiago Forte and Chris Sparks (8/18)
I was hosted by author, teacher, performance coach, and poker pro Chris Sparks for a "lunch hour" followup conversation on how to position yourself for the explosion in online education. I revealed the deepest lessons we've learned about how to deliver transformational online learning experiences from launching 10 courses over 7 years.
Second Brains, Organizing Styles, and SOPs, with Timothy Kenny (8/18)
Timothy Kenny is a top Udemy productivity instructor and author, who also teaches courses helping people to manage the information in their lives. We discussed the difference between Evernote and Notion, how organizing affects the way you think, and I explained how I use SOPs (standard operating procedures) to make common business tasks as effortless as possible (including templates you can use for yourself!).
Creativity & Building a Second Brain (8/18)
Most people, if you ask them, don't believe they're creative. Nor do they understand how developing this skill can transform their work and lives. In this Zoom interview, creativity and visual thinking expert 
Chuck Frey
 and Tiago Forte dove into the creative side of Building a Second Brain. They explored how it leverages and extends the creative powers of your mind, how it can help you to increase the quantity and quality of your creative output and how it can revolutionize your approach to challenges and opportunities. Read a recent post by Chuck on 
How Building a Second Brain Blew Up My Thinking
.
Deep Dive Live Stream with Ali Abdaal (8/19)
This was a fantastic conversation between me and Ali Abdaal, one of the top YouTubers, writers, and experts on personal productivity and organizing, with over 3 million YouTube subscribers. We talked about the principles of knowledge management, a few of my most foundational techniques for doing it effectively, and other topics like personal growth and balancing structure vs. spontaneity.
Build a Second Brain Live Webinar with Matt Ragland (8/19)
I joined Matt Ragland, a YouTuber, multi-talented creator, and minimalist bullet journal aficionado, for a webinar on our systems for capturing and tracking the most important information in our lives. We covered the differences between paper and digital note-taking, between actionable and reference info, and many other common questions from his audience.
Upgrade My Notes, with Francesco D'Alessio
I joined prolific YouTuber and productivity expert Francesco D'Alessio for a "private coaching session" on how he could upgrade his digital notes. Peek over our shoulders as we look through Francesco's notes collection and I advise him on how to get more value from his knowledge collection.
Creative Strategy with the Second Brain (第2の脳でクリエイティブの攻略法)
In the first non-English event of Second Brain Week, Kentaro Oyama will host Japanese speakers interested in building a Second Brain on Saturday, August 22 at 20:00 Japan time, in a special one-time webinar.
Click here to read more
and register (in Japanese).
Dan Shipper + Tiago Forte: The 4 Levels of PKM
In this presentation and conversation, exclusively for members of the Everything publication, Tiago will unveil his new 4-part framework for evaluating your knowledge management skills, based on his experience teaching 2,000 students in the Building a Second Brain course. Dan and Tiago will talk about how it applies to people's personal productivity, with time for Q&A with the audience at the end.
---

Follow us for the latest updates and insights around productivity and Building a Second Brain on Twitter, Facebook, Instagram, LinkedIn, and YouTube. And if you're ready to start building your Second Brain, get the book and learn the proven method to organize your digital life and unlock your creative potential.